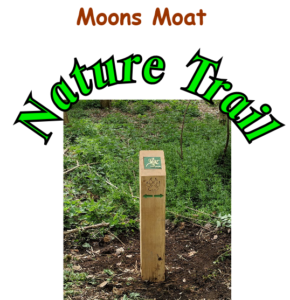 Welcome to the Moons Moat Nature Trail where you can explore the wildlife that calls the Moat its home.
You can follow the trail from post to post and, at each, collect your own image of one of the species commonly seen on site.
On the top of each post there is a plaque with an embossed image. By placing a piece of paper on the image and lightly rubbing over the plaque with a crayon or pencil you will see the image transfer to your collection.
Then look around you, here and as you walk further, to see if you can spot a living example on site.
The Trail
Starting by the bench on the south side of the moat you will find Post 1. This has an image of a Mallard duck on it which is probably the most common species you will spot at the moat. Notice that the male and female look quite different. If you come in May or June you are also likely to spot baby ducklings.
Once you have "rubbed" your image into your workbook, walk in the direction of the arrow on the post and find Post 2.
Repeat the process and then move on to the next post. There are ten posts in all on the trail.
"Brass Rubbing"
A century ago, brass rubbing was one of the choice hobbies of schoolboys. With a roll of thick paper and cobbler's wax young men would cycle around medieval churches and lay the paper over monumental brasses set in the church floor. By rubbing the wax over the paper they would create an impression of the brass – and very handsome some of these were, too. Our Nature Trail offers you a similar experience
The Moons Moat Nature Trail Workbook
With the help of the Worcestershire Wildlife Trust, volunteers in the Moons Moat Conservation Group have researched and compiled a workbook to help you explore the nature trail and its 'inhabitants'.
Copies of the workbook are available to local schools to help them use the trail as an educational resource.
Additional copies are available from the Moons Moat Conservation Group.
Get You Copies of the documentation
Print two sided with short edge binding